My Life Your Entertainment: Where Your Heart Belongs Series Finale (Signed by Author)
SKU:
Everyone's Journey to where their heart belongs can be different. The path may show similarities to others but we all ultimately have our own. Sedric Magid will close this series on his own search to finding where his heart belongs.
Almost from birth, Sedric Magid dreamed of living the life of a superstar athlete. Following in the footsteps of his older cousin Brandon Case, had instantly become his ultimate goal.
But as we all know the only problem with following in someone's footsteps is not knowing exactly where they have been. Facing the drama of the life, and lights that came along with living his dream turned the entire world upside down for him.
Suddenly he had to face other people's agendas for his life, and understanding his own true wants and needs Now he's faced with finding a way to erase all the wrong turns and find a new path to the life he never realized he truly wanted in his heart. Finding Where His Heart Belongs
Powered by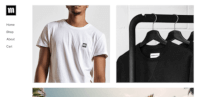 Create your own unique website with customizable templates.